NEWS
01-02-2011 OUT NOW: Photophob - Sounds of Concrete [laridae060]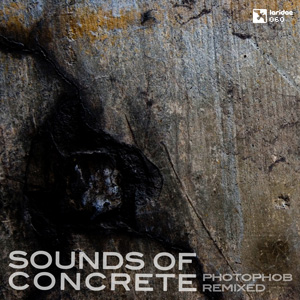 Listen to it !
OK - this is gonna be MASSIVE. Photophob's 'Urban Dialectics' gets torn apart by….
Hecq (Hymen Records), Simon/off (Immerse Records), Beitegeuze(laridae.at), Tomoroh Hidari (Isolate / Record Label Records), Dr. Nachtstrom (Mego), Coppice Halifax (Milieu Music / EED) and Firnwald (laridae.at / Miga / tonAtom / Hippocamp …).
11-2-2009 AKTIVE MEMBER: This is a condition for ending the Loudness War!
11-10-2008 OUT NOW: Beitegeuze - Concorde [laridae043]
FREE Download
DE:BUG: Zeitlos. Rund. Ganze 3 Jahre Warterei seit seinem letzten Werk "Mein Liebchen", aber nun bleibt die Zeit fast stehen. Sieben zeitlose Stücke Musik von Beitegeuze die sich irgendwo zwischen IDM, Downbeat, New Age, Szenen aus Bladerunner und der Ostküste Frankreichs ein kleines Stückchen Land gekauft haben und dort mit dir die Wolken betrachten. Laridae..s Tipp für den Netaudio Release of the year.
Photophob: Haste makes waste. Beitegeuze definitely doesn't. Again Tyrolian sound enthusiast Thomas Berberich aka Beitegeuze has kept his fanbase waiting for several years before delivering a new album. And again it has been more than worth waiting for. On 7 tracks, Concorde celebrates the beauty of Retro Electronica, exuding the nostalgic flair of 70ies glamour while pleasing your ears with its flawless production - there are absolutely no excuses for not loving this superb amalgamation of form and content!